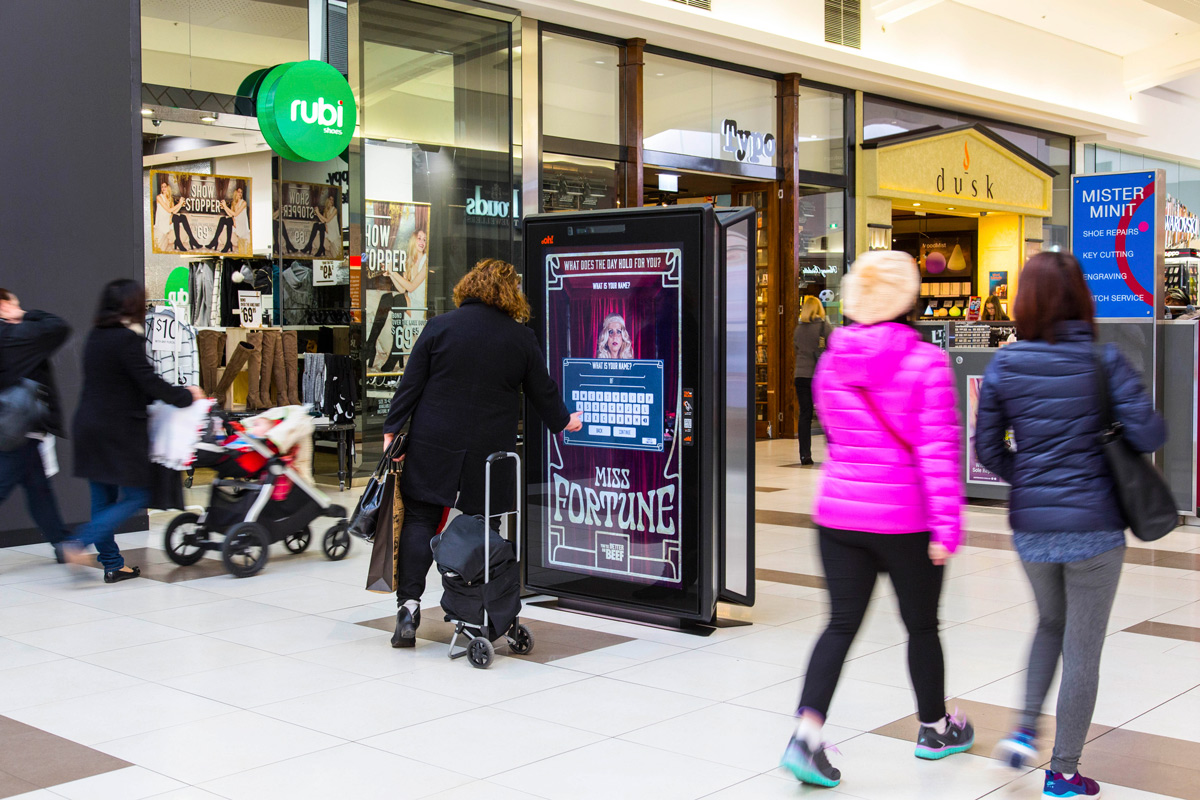 oOh!media's EXCITE screen network has recorded more than 400,000 shopper engagements with interactive campaigns during its first year.
Shoppers' appetite for the interactive campaigns, that featured on 50 EXCITE screens across Australia's busiest shopping centres, has exceeded expectations, according to Retail Media experts and leading Out Of Home company oOh!media's Commercial Director of Retail, Blair Hamilford.
"It's a year since we introduced our world leading interactive EXCITE screen network into Australia's retail environment and we've been amazed by shoppers' response to the first 12 interactive campaigns," Mr Hamilford said.
oOh!'s EXCITE screens have unrivalled sensory features that lure shoppers to deeply engage with advertisers via the panel and integrate the campaign with online, mobile and social media.
The power-packed technologies of the EXCITE network include: multi-touch screen; Kinect 2.0 gesture control; voice recognition; web-cam; audio and 4G connection.
Yesterday oOh! celebrated the first birthday of its EXCITE screen network at the AANA RESET conference by encouraging attendees to engage with campaigns from the past year.
Mr Hamilford said: "It's great to see advertisers creatively harness the technology and produce interactive campaigns that actively engage shoppers.
"The great response shows how the EXCITE screens are contributing to shoppers overall experience of retail centres as a destination for entertainment and leisure.
"Over the year we've seen a variety of innovative concepts for campaigns such as touch-screen and gesture control gaming, photobooths, on-screen questionnaires, tap and pay donations, downloadable info and calendar updates, even a digital fortune teller – all creating experiences that can be shared and amplified via social media."
An extremely popular campaign was Powerade's 'virtual basketball game', which recorded over 31,000 interactions during the Rio Olympics. The aim of the game was for shoppers to shoot as many basketballs in the hoop as possible in 45 seconds using the screens' gesture control capabilities. Most people played a few games, interacting with the campaign for nearly three minutes.
Another successful campaign saw Meat and Livestock Association convert the EXCITE screens into digital fortuneteller booths for its Miss Fortune campaign. More than 53,000 shoppers placed their palms on the screens to activate a tongue-in-cheek crystal ball reading such as: "Unspeakable riches will come your way … from a Nigerian email account."
Some other advertisers who have run campaigns on oOh!'s EXCITE network during the year include Village Roadshow's PAN, Walking Wounded, MLA, Fit Bit and Optus.
Mr Hamilford said "The creativity of a campaign run on the EXCITE network is only limited by imagination. To help bring our clients' ideas to life, we provide an in-house creative team, including app developers, to provide creative and production support and ensure the optimum user experience.
"Over this past year we have set a new benchmark for consumer engagement for Out Of Home advertising on a mass scale. Where previously advertisers ran one-off executions, the EXCITE screen network has made it possible to personally impact audiences on mass, nationally," he said.
"EXCITE has also proven to provide a seamless way to continue the conversation online to social channels with or without mobile devices" Mr Hamilford added
The EXCITE screens are strategically placed in high traffic spots – giving a wide berth for interactivity and crowd viewing for long periods of time. When not tempting shoppers to engage with campaigns, the screens can also run non-interactive digital advertising.
"Shoppers are drawn to the screens and further impacted by the campaign through media support across the shopping centre on ShopaLive and ShopaLite panels," Blair said.
oOh!'s EXCITE network is part of its growing shopping centre portfolio that provides access to more than 540 shopping centres across Australia and a wide range of media opportunities including classic ShopaLite panels and over 1,500 digital screens.
The Outdoor Media Association awarded oOh!'s EXCITE network the Creative Collection 2016 Award for the Best Use of Technology/Innovation.
Read the original post at Oohmedia.com.au