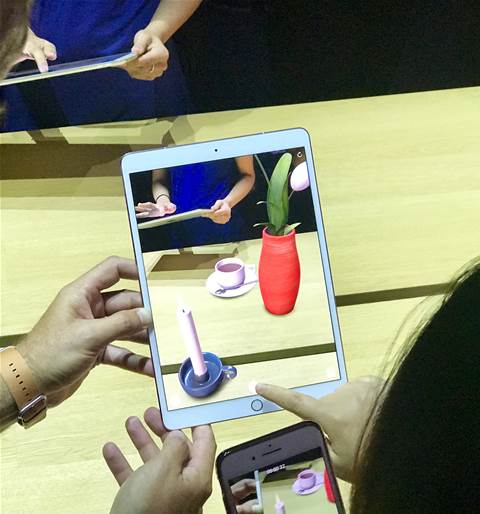 Virtual and augmented reality-capable systems launched.
Apple has unveiled one of its largest updates to its hardware range, launching new laptops, desktops and tablets at its worldwide developer conference.
Last year's MacBook Pro laptops received criticism for not being powerful enough; the devices have now been fitted with Intel "Kaby Lake" 7th generation processors, faster solid state drives, and quicker CPU-based and discrete graphics options.
System memory in the updated MacBook Pro is still limited to 16GB, however, compared to the 32GB or more available with competing PC brands.
The 13-inch MacBook Pro starts at A$1899 for a 2.3GHz Intel Core i5 model with 8GB of memory, 128GB of solid state storage, and two Thunderbolt 3 ports.
The top of the range 13-inch MacBook Pro starts at A$2669 for a 3.1GHz Core i5 model, 8GB RAM, 256GB storage and four Thunderbolt 3 ports, plus the TouchBar function key replacement and Touch ID authentication.
More powerful 15-inch models with AMD Radeon Pro 555 and 560 graphics cards are also available with 2.8GHz and 2.9GHz Intel Core i7 processors, for $3499 (256GB storage) and $4099 (512GB storage).
Apple's lightest laptop, the MacBook, has also been refreshed with new Kaby Lake processor options and 256GB and 512GB storage, costing $1899 and $2349 respectively.
Along with the faster laptops, Apple also updated its iMac range for the first time in two years, making them powerful enough to be used for virtual and augmented reality content creation.
The new iMacs use Intel's latest Kaby Lake processors and have updated screens which support 10-bit per colour dithering for displaying billions of hues, up from 8-bit in the previous models.
With a retina 4K display, a 3GHz quad-core Core i5 processor, 8GB RAM, 1TB storage and an AMD Radeon Pro 555 with 2GB of video ram graphics card and two Thunderbolt 3 ports, the iMac 21.5-inch starts at $1899.
An extra $300 buys an iMac 21.5-inch computer with 3.4GHz Core i5 and a Radeon Pro 560 upgrade.
New 27-inch screen iMacs were also launched, boasting 5K resolution retina displays, up to 3.8GHz Intel Core i5 CPUs and an AMD Radeon Pro 580 graphics card in the range-topper model, costing $3449.
Unlike the MacBook Pros, the new iMacs can be configured with large amounts of memory: 32GB for the 21.5-inch model, and 64GB for the 27-inch computer.
Apple also said it would release an iMac Pro in December this year containng workstation-class performance.
The iMac Pro can be configured with up to an 18-Core Intel Xeon processor and AMD's new Radeon Vega graphics, with multi-core architecture and 16GB of high bandwidth memory.
Systems can be fitted with up to 128GB of RAM and 4 terabytes of disk space.
According to Apple, the iMac Pro will be capable of 11 tera floating point operations per second single-precision performance, or 22 tFLOPS half-precision, making it suitable for high-end graphics work as well as machine learning applications.
Apple also refreshed its iPad Pros, retiring the current 9.7-inch model with a 10.5-inch device that offers one fifth more screen size.
Along with the larger, 12.9-inch model, the new iPad Pro features a tuned-up version of the 64-bit A10X Fusion with the six processor and 12 graphics cores chipset that debuted with the iPhone 7 and 7 Plus last year.
Again, Apple is pitching the more powerful iPad Pros to content creators in the graphics as well as virtual and augmented reality fields.
The new iPad Pros also received the improved 12MP rear cameras from the iPhone 7, and a 7MP FaceTime HD front-facing camera.
An improved screen with 120 Hertz refresh rate, up from 60, provides smoother graphics and scrolling on the iPad Pros, and a low, 20 millisecond latency when the Apple Pencil stylus is used.
Apple will sell the 10.5-inch iPad Pro from $979 for a 64GB storage and wi-fi only connectivity, and $1179 with cellular network capability added.
The 12.9-inch iPad Pro starts at $1199 for 64GB storage and wi-fi only, and $1399 with LTE wireless connectivity added.
Read the original post at ITnews.com.au