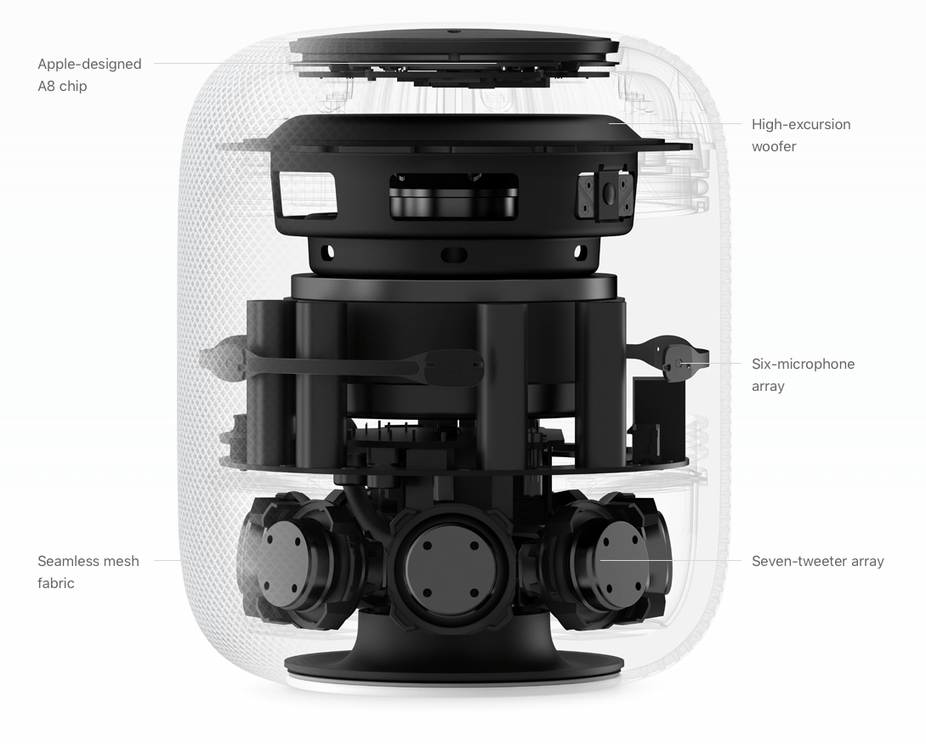 Apple's World Wide Developers Conference 2017 (WWDC) started today with the traditional keynote speech announcing Apple's new and upgraded software and hardware.
The overall takeaway from the announcements showed the increasing convergence of the mobile platform, especially the iPads with desktop computing. Artificial intelligence, augmented reality and virtual reality have also become a focus for all platforms.
It would be easy to couch these announcements as moves to combat similar products and capabilities from Google and Amazon, especially in the case of the Apple's new HomePod smart speaker. However, in the case of the speaker, Apple has taken a different direction to Google and Amazon and concentrated on delivering a device that is focused on simply being a speaker to play music rather than be a conduit for access to a smart assistant (in the case of Google's home speaker) or for access to shopping on Amazon's network (in the case of the Echo).
Apple's announcements indicate that it has become sensitive to public opinion and has responded to criticisms levelled at the lack of hardware that would support the demands of their high end user base.
What did Apple Announce?
New and Upgraded Hardware
There are refreshes of the iMac, MacBook Pro and MacBook with a brand new iMac Pro. iMacs have upgraded displays and graphics capabilities enabling the use of VR including the availability of various VR games platforms like Steam VR.
The popular 9.7″ iPad Pro has been replaced with a 10.5″ model with updated graphics and processing capabilities. In particular, the screen's refresh rate has been doubled, in part to support an improved responsiveness to the Apple Pencil.
HomePod
The biggest announcement for new hardware was probably the HomePod, Apple's smart speaker. Effectively, this is a speaker that can respond to voice commands through Siri. The details of this are sketchy and it would appear that you would need an Apple Device to set it up and configure it. Positioning it primarily as a speaker is a clever move on Apple's part because it is unlikely to be able to do much more particularly effectively. Even Amazon has added a screen to its Echo device to provide enhanced capabilities.
Software upgrades
On the Mac, macOS will not get a major upgrade and so the next version will be called macOS High Sierra (Version 10.13). One could argue that the use of the "major" qualifier has been a somewhat arbitrary decision in the past but by not using it, customers have had their expectations set lower. Having said that, there is a significant change with this version of the operating system with the now mandatory use of the Apple File System, APFS. Already available on iOS devices from version 10.3, APFS is now available on the Mac, providing improvements in performance and security and is worth upgrading to enable. Other updates include changes in Apple Mail and new features in Safari including the much welcomed blocking of autoplaying videos and blocking of website tracking.
In iOS 11, there is a new Files app that integrates iCloud and other cloud drives in one app as well as allowing access to local storage. On the iPad, there is an expanded Dock with the ability to launch 2 apps direct from the dock. Drag and drop of content has been added that allows content to be shared from one app to another open app in split view.
The functionality of the iPad Pro has been updated with more seamless use of Apple Pencil and Notes. Notes can be activated from the lock screen for example, annotating screen shots. There is support for inline drawing within notes and emails. Handwriting can be searched. Another feature, previously supplied only be third party apps is the ability to "scan" documents, store and enhance them. Keyboard improvements included allowing for single hand operation by compressing the keyboard to the side and making numbers accessible from character keys by using a "flicking down" motion.
iOS sees the support for augmented reality with new a new programmatic interface. This will allow developers to add this type of feature easily to their apps. Apple claims that the underlying image recognition that powers this feature is much faster than that available on Google Android and its hardware.
Siri has got smarter with the ability to provide language translation. It is not clear whose underlying translation engine is being used but it appears not to be Google's after testing a few phrases. Google dramatically improved its language translation capabilities last year and Apple will have a long way to go to catch up in this area.
In maps, Apple has added indoor maps. Again, Apple has improved its maps capabilities but it lags significantly behind Google.
Read the original post at Theconversation.com