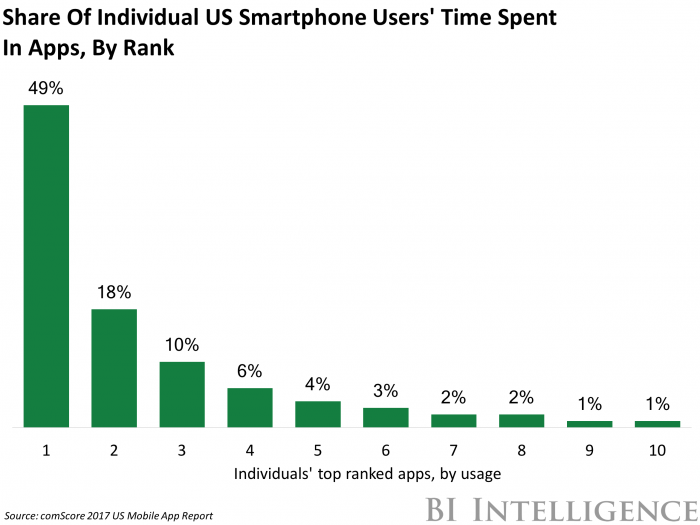 More than half of all time spent in digital media is within users' top five apps, according to comScore's 2017 US Mobile App Report. Users spend 90% of their mobile app time in their top five apps, making up 51% of total digital time spent.
Perhaps more alarming is that half of the time spent on smartphones is within just one app. That drops dramatically to 18% of time for the second most used app. This suggests that unless a brand's or business' app is the first or second most used (most likely Facebook- or Google-owned), it's unlikely to get any meaningful share of users' attention.
While the report paints a dire landscape for the US mobile app market, changes in the behavior of millennials (those 18 to 34 years old) suggest a bright spot:
App downloads are picking up steam after a period of stagnation. Sixty-four percent of millennials download new apps more often than they did a year ago. And 57% download new apps more often than they delete old ones. This is promising considering that monthly app downloads have languished in recent years.
In-app purchases are commonplace. Nearly half (46%) of US millennials made five or more in-app purchases for digital goods in the past 12 months. And just 30% said they didn't make any in-app purchases. The majority of app publishers and developers rely on in-app purchases to monetize their apps.
Users are more willing to permit app notifications. In 2017, 43% of app users say they often or always agree to an app's request to allow push notifications. That's up 16 percentage points from the 27% of US users who said the same in 2016. This is a boon for brands and publishers — push notifications are an extremely effective app engagement tool.
Nevertheless, the report shows the astonishing influence Facebook and Google have over how US mobile app users spend their time. And given the increasingly large share the top five apps have, it's likely to only become more difficult for brands and publishers to receive any share of users' time.
Alternate app experiences such as Apple's iMessage apps, Google's Instant Apps, and Facebook Messenger's Instant Games could provide brands and publishers with new avenues to reach consumers where they're spending their time. While these services are nascent, they do provide a promising option for businesses moving forward.
In 2009, Apple coined the phrase "there's an app for that," and within six years, its prophecy had been fulfilled.
Apps had become the primary way people navigate the internet, overtaking mobile and desktop web browsers. And now they account for the vast majority of time spent on mobile devices.
But, despite this dominance, an intensifying engagement crisis is putting the ecosystem at risk. App usage is consolidating and once they've tried an app, users mostly aren't coming back for more.
This shift could usher in a "post-app" era, which could transform the way consumers access the internet and digital services. Mobile tech giants Apple, Facebook, and Google have each put in motion strategies that best ensure they emerge not only unscathed, but ahead of their competition. At stake is the dominance of an industry projected to reach $102 billion in value globally by 2020.
Read the original post at BusinessInsider.com