While digital trends like mobile messaging apps and mobile commerce will continue to heat up in 2016, other things like viewability and ad blocking won't. Here are eMarketer's predictions for what will not happen next year.
Ad Blocking Won't Get Solved in 2016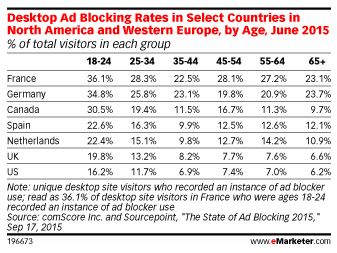 The debate over ad blocking will heat up and maybe even boil over this coming year, but a broad solution won't emerge. Some publishers will make a good-faith effort to tone down the ad and code overload that has led some consumers to block ads altogether. Others will pay off the blockers to get a pass for now.
Some will take the fight to consumers, denying sought-after content and access to users who aren't willing to turn off their ad blocking. But at a broad level, the problem of ad avoidance and ad blocking will persist. Therefore, marketers will try to do some avoidance of their own, in particular via native advertising.
Ad blocking poses the most challenges to the desktop and mobile web, but mobile apps are still more or less immune to ad blocking, and that's where the bulk of mobile ad dollars are flowing. In addition to native ads on the web, native ads on social platforms like Facebook and Twitter, as well as mobile display in apps, could become popular ways to get around ad blocking. In short, the world will not turn native overnight, no matter how common ad blocking becomes in 2016.
Viewability Won't Get Solved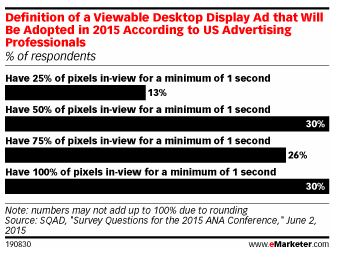 The industry will continue to debate and fumble over defining, measuring and agreeing on what constitutes a viewable impression. The differences between mobile and desktop will continue to complicate the discussion, but so will publishers and advertisers, who will resist having to pigeonhole views under a single definition.
And even if some consensus does emerge, the celebration may be short-lived. In some quarters, people are asking whether a view is even worth measuring.
Facebook Won't Kill YouTube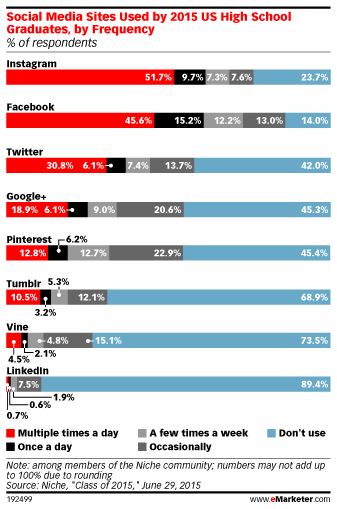 Facebook is quickly becoming an important player in digital video. Racking up more than 8 billion video views each day (double the number back in April 2015), Facebook users clearly like video.
Advertisers like Facebook video, too. But they also still like YouTube. eMarketer believes that they will use the two platforms in different ways, and for different goals. More often than not, they will advertise in both places, not one or the other.
That said, Facebook initiatives in 2016 will impact the way video publishers distribute their content. It's already experimenting with a video hub that could emerge as a standalone app. But don't expect to watch long-form video on Facebook.
Young People Won't Abandon Facebook in Droves
Declaring the demise of Facebook among teens and young adults has become a popular pastime. Even the leader of the free world got into the act a couple of years ago: While chatting with millennials at a café, President Obama remarked, "It seems like [young people] don't use Facebook anymore."
No doubt such pronouncements will continue to be made in 2016. And, also no doubt, they will continue to be incorrect. Yes, many young people devote less time and emotional energy to Facebook than they did before the social sphere got more crowded. But this does not mean they are abandoning it, or even that they have stopped using it a lot. Some may now regard it more as a necessary evil than as something they love. Note, though, that being a necessary evil is not such a bad business model.
Looking ahead to 2019, eMarketer foresees Facebook penetration holding steady, at more than eight in 10 among online 12- to 17-year-olds and nearly nine in 10 among those ages 18 to 24. We should all be so deserted.
Digital Spend Won't Surpass TV … Yet
US digital ad spending is on the verge of topping TV ad spend for the first time, but it probably won't happen in 2016.
As of this writing, eMarketer's final estimates for 2015 and the forecast for 2016 are not yet complete, but for now it appears that the Rio 2016 Olympics and other live programming, plus the inevitable bump from US presidential election spending, will keep TV spending above digital for another year.
The larger question is how TV and digital will work together. Yes, audience fragmentation has resulted in smaller viewership numbers, but cable and broadcast TV programs still bring in money and significant numbers of eyeballs. In 2016, partnerships will continue to form as traditional TV outlets move more of their content to digital and digital content companies look to expand their reach.
Read the original post at Emarketer.com