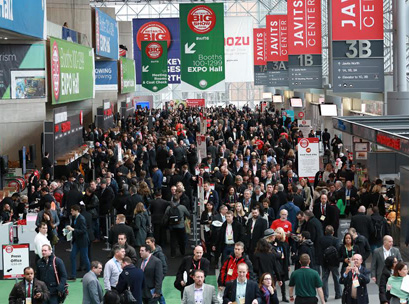 This week around 33,500 visitors flocked to the Jacob K. Javits Centre in New York City for the annual National Retail Federation (NRF) Convention and Expo. Held from January 17 – 20, the event is an opportunity to take stock following the busy holiday season and get a sense of how 2016 will shape up for retail.
Much to this journalist's disappointment, nobody announced their plans for a hostile takeover of Amazon at the event, however several key themes emerged. Here are my key takeaways from the show:
1. Power continues to shift toward the consumer
During his presentation on brand engagement, Marks and Spencer's chief marketer, Patrick Bousquet-Chavanne, argued that "consumer empowerment isn't a trend," rather it is a paradigm shift which is only going to continue in the direction of the consumer.
"Tech has untethered customers dramatically and therefore we think that loyalty in itself has shifted dramatically over the past years, over this era of very powerful consumer empowerment," Bousquet-Chavanne said.
In response, organisations will have to invest in their operations and systems to make them more agile. Consumer empowerment will also affect the value chain, argued Kees Jacobs, Capgemini's global consumer engagement and value network lead.
"We will move away from linear and sequential value chains, where everything goes from manufacturing, distribution, retailing and, finally, the consumer. Instead we will organise ourselves as an industry around consumers, with new and dynamic flows of information, products and transaction," Jacobs said.
"Consumers don't just buy stuff. They are the centre of these networks, they pull the strings in these networks with their dynamic paths to purchase, they mobilise these networks whenever and wherever they want to explore, enjoy or buy products and services."
2. Omnichannel is passé
Endeavouring to provide a seamless customer experience across all channels is no longer a strategy in and of itself, but a requirement of a broader approach to engage customers wherever they are.
Former Nike global VP and current CEO of HSN (Home Shopping Network), Mindy Grossman, said retail has moved beyond multichannel and omnichannel to "distributed commerce" — the customer is the new point of sale.
"Our approach for distributed commerce really seeks to move away from a direct model of selling towards ones that is indirect, agile, and transparently seamless to the customer. Being able to meet your customer anywhere and everywhere she wants to shop is crucial," Grossman said.
3. Artificial Intelligence is coming to retail
Artificial intelligence (AI), cognitive computing and machine learning were all on display at the NRF Big Show. The most prominent example was IBM's Watson, named after the company's first CEO, the intelligent computer which beat human champions to win Jeopardy.
One example powered by Watson was Wine4Me, a cognitive computing-enabled app that can be used instore at a kiosk or mobile device, to recommend wines to shoppers. AI comes back to a trend of trying to make technology more "human" and for online interactions to more closely reflect instore conversations. However Wine4Me, CEO and founder, Amy Gross, said she wasn't trying to put any sommeliers out of business, rather she has hired a team of sommeliers and wine journalists to determine which words people used when talking about wine, and which product to match them to.
Outdoor sportswear brand, The North Face, has developed an online shopping tool using Watson to replicate the conversations had in store while shopping online. Cal Bouchard, senior director of e-commerce at The North Face, warned you need to teach the system everything before it works effectively. "You have to think that you're not going to get anything when you get this and you have to ingest a lot of data into it," Bouchard said.
Retailers also need to "go deep" on their product catalogues, recording all the features and weighing them against how important it is to your customer. "AI needs to know your product and it will never know your product unless you really know your product," Bouchard said.
Read the original post at Insideretail.com.au