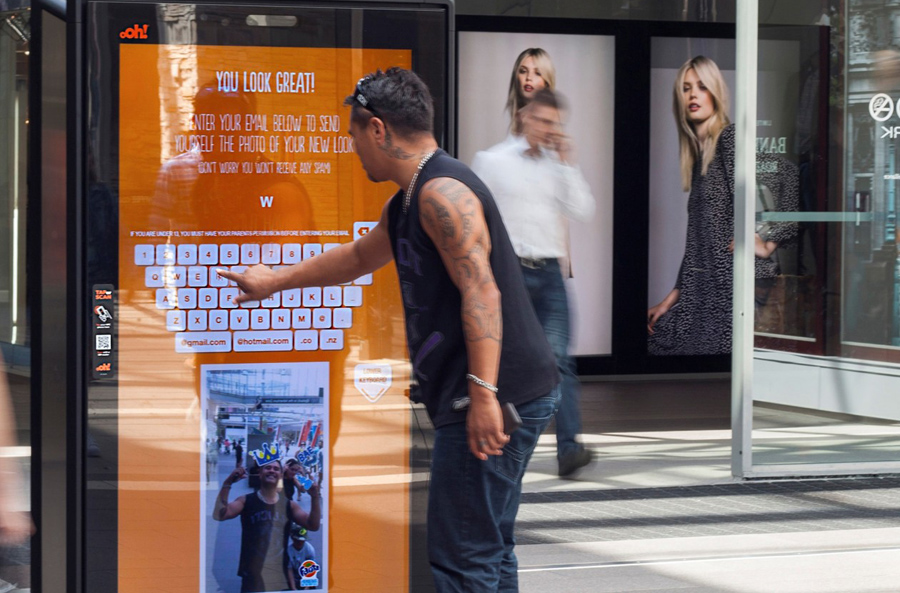 The first campaign in New Zealand to utilise the cutting edge functionality of oOh!media's EXCITE interactive retail panels encourages shoppers to take a selfie using its in-built-camera, accessorise the images on its touch screen and then have it emailed or shared on their social networks.
The EXCITE activation is part of the #BeMoreFanta campaign aims to build Fanta's brand awareness and encouraging product trial by inspiring teens to embrace the playful, fun and vibrant side of life. The campaign utilises the EXCITE panels' high definition web-cam to take images, its audio functionality to countdown before the selfie is taken, the touch screen panel to enable shoppers to add Fanta accessories to the photo, before its sent directly to their email with a message encouraging them to share using the #BeMoreFanta.
oOh! General Manager of New Zealand, Adam McGregor, said oOh!'s cutting edge EXCITE retail screens provide engagement and networked reach that give advertisers opportunities to interact with shoppers like never before.
"We've packed in all the latest technologies we could to equip brands like Fanta and their advertising agencies with the opportunity to be creative and develop interactive campaigns like #BeMoreFanta, with both cut through and reach, Mr McGregor said.
"An advertising revolution like EXCITE will allow advertisers to start to explore how they engage their audiences more dynamically and provide a meaningful link from our Retail panels to online and social via mobile," added Mr McGregor. Dale Cummings, Head of Trading at media company Ikon said, 'oOh!'s proposal to integrate the EXCITE panels' technology was a seamless fit for the #BeMoreFanta campaign'.
"The creative idea married with oOh!'s leading EXCITE technology creates a seamless, fun, interactive media and we are pleased to be able to deliver it for our client," Mr Cummings said. The five EXCITE screens are strategically placed in high traffic spots targeting teens and mums – giving a great opportunity for interactivity and crowd viewing, plus a long viewing time in Auckland shopping centres.
The Auckland shopping centres include: Sylvia Park, Downtown, Botany and Northwest. The EXCITE digital panels are accompanied with a wider retail campaign utilising oOh!'s leading retail network that will extend the campaign nationally from Auckland to Hamilton, Wellington and Christchurch. The campaign runs from Monday 22 February for two weeks.
Read the original post at Voxy.co.nz