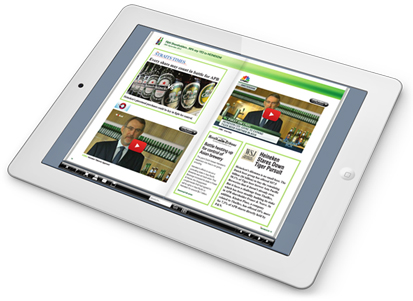 Tablets have been touted as "reinventing" and "revolutionizing" retail. Retailers and consumer-facing businesses have been testing the use of tablets to ­­­­­­­­gain operational and marketing advantages, and they like the results. Here are some ways retailers are getting big impact out of small screens.
Brand Collaboration
In some cases brands have joined forces with key retailers to test tablet kiosks. Target is reported to have tested iPads loaded with product content from Johnson and Johnson's BabyCenter parenting website in baby departments of 10 Illinois stores. The test initiated in 2013 also included trained staff members with the aim of providing a more specialty store type of experience for new parents.
Engagement Tools
Tablets can also improve the process of trying on clothes either by providing convenient access to inventory for additional size, style and color options or virtual mannequin software that lets shoppers try a look digitally. They can also be tools for social feedback.
The flagship store of London retailer Karl Lagerfeld has installed iPads in dressing rooms to allow shoppers to take selfie photos with their clothing finds to send to friends.
Product Creation Stations
Tablet touchscreens provide a functionality that allows shoppers to try out design options and get creative. A number of athletic shoe brands like Puma and Nike have incorporated tablet customization into their retail strategies. To add impact to the experience a digital signage connection allows customers to show their creations to a wider in-store audience.
Signage
Tablets can replace paper signage. In fast changing categories this means up-to-the-minute product information. They give retailers the ability to cater to sophisticated shoppers who want detailed product specifications for high-end purchases like electronics, creative content for categories like fashion or pairings and source of origin for food.
Kate Spade has replaced paper signs with iPads placed strategically throughout the store to display product information and relevant content. Part of that content will be user-generated images designed to increase dwell time.
POS Devices
Retailers who are using tablets for checkout appreciate their multi-functionality. They can accommodate inventory checking, ordering, product information and sales associate training.
The IHL Group reports (Mobile POS: Hype to Reality, May 2013) that tablets have been most popular as POS devices with independent retailers and mall-based specialty chains. Falling into neither of those categories, Whole Foods Market plans to expand checkout locations in several of its stores by testing tablet checkout stands at fresh sandwich and coffee stations.
There's so much more to launching a tablet program that just choosing a tablet and an enclosure. Our latest whitepaper Using Tablets to Transform Retail Experience can walk you through all of the considerations that go into planning a successful program.
Read the original post at Kioskmarketplace.com