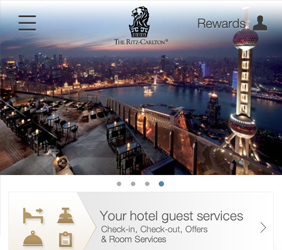 The Ritz-Carlton unveiled its new mobile application after extensive research on the original app led to useful insights.
The updated app aims to cover the entire consumer experience, from check-in to check-out. An effective mobile strategy is crucial for both generating bookings and creating a fulfilling guest experience.
"One of the best aspects of the app is that it truly has the ability to become a part of a guest's total travel experience," said Christoph Heyn, director of mobile and digital guest experience at The Ritz-Carlton Hotel Company, Chevy Chase, MD. "It starts with the pre-arrival email that includes a link to check-in 24 hours before a reservation, followed by a SMS that alerts the guest when their room is ready.
"All of this enhances their experience before even stepping foot into the hotel," he said.
"We're giving our guests a platform to be in control of their hotel experience by using their smartphone to do every-day travel activities, such as food and beverage ordering, which is exactly what all savvy travelers rely on today. These mobility offerings provide an additional level of comfort and convenience to a Ritz-Carlton stay."
Zero wait
Travelers are increasingly demanding robust and reliable mobile apps for navigating hotel visits. The Ritz-Carlton sensed the importance of this demand a few years ago when it released the first version of its brand-wide app.
Naturally, the initial release would need adjustments. Rather than bolt new updates onto the app every time a new idea came up, the brand decided to study the user experience for an extended period of time.
With the insights gathered from this process, the brand intends to provide an app experience that is satisfying on a functional and emotional level.
The new app features enhanced check-in and check-out capabilities, real-time service requests and a review of bills.
Service requests such as a shoeshine, turndown service or more fresh towels can be made through the app.
Guests can also access exclusive local content and offers and order food and beverages at select hotels. On Oct. 1, the brand will be adding a shareable Travel Poster feature that provides filters, titles and stamps to users to customize posters.
Stories and special content can be unlocked at hotels via the QR scanner.
Hotel reviews, events calendars, photo galleries and other multimedia content can be accessed as well.
More basic functions include locating hotel information, booking reservations, contacting personnel, receiving messages about stays and more.
After the consumer agrees to provide her location, the app locates the nearest property and allows guests to search for more specific, and potentially relevant, information.
In addition, the app lets guests access their loyalty points and view the state of the #RCMemories campaign.
The Ritz-Carlton Hotel is encouraging social media fans to engage with the brand in the month of August by posting their favorite summer sky photo with the hashtag #RCMemories.
Photos can be uploaded to Instagram, Facebook or Twitter and must include the hashtag for the brand to recognize it. The Ritz-Carlton consistently generates strong social media interaction, and as the #RCMemories hashtag becomes more well known, it is likely that its social activity will only increase.
The brand is also testing out a poolside ordering feature that will allow guests to order drinks while lounging by the pool without having to flag down a server.
Changing perspectives
Mobile has become an integral aspect in areas that might have once seemed resistant.
For instance, The Frick Collection is facilitating the guest experience by releasing a new application equipped with useful resources.
The app lets guests explore collections, locate certain pieces, access background information and offers other tools. Many major museums have substituted in-museum audio guides with mobile apps, a clear concession by arbiters of history to the ubiquity of smartphones (see story).
For experiential companies like The Ritz-Carlton, an effective app can open up many possibilities for guests, thus increasing the chance for a satisfied stay.
"The further build-out of our 'At Hotel' experience is truly the core of the app," Mr. Heyn said. "We went through great lengths with years of research to establish mobile features that remain worthy of The Ritz-Carlton experience.
"The app is fully integrated into our back-end systems, allowing for superior execution," he said. "The integration into our property management systems allows our guests to view their folio in real time or to submit in-room-dining orders that are instantly sent to the kitchen.
"This integration and execution truly differentiates us from most other mobile solutions in the market."
Read the original post at Luxurydaily.com