Responsive Web Design
Today's world lives Online, but on a myriad of devices and screen sizes!  So your Website's design is critical to your brand and business.
How does your website appear on Mobile devices?
Unless your website is very new, it is unlikely to function properly on the latest smartphones and tablets in the hands of the majority of your customers today! An unsatisfactory visitor experience will reflect negatively on your brand.
So why not test your website today on various mobile devices? What is the experience?
The good news is that you don't need a new website!
We can easily transform and refresh your existing website into a "responsive website" designed to work perfectly on any tablet and mobile device.
THE ESSENTIALS!
Responsive Web Design:
Our web designers have extensive expertise in either building your new responsive website from scratch or we can modify, rejuvenate and convert your existing website into a responsive form with the latest generation of responsive templates.
Your responsive Website will now be an optimised experience across all desktop, tablet and mobile devices.
e-Commerce Ready:
Our websites templates are all e-commerce ready which enables you to quickly sell to the world at a very low investment!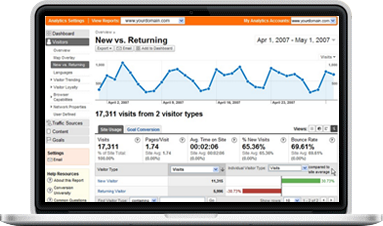 Internet Marketing and SEO enabled:
We ensure your website is maximised for SEO and is search engine friendly, and fully optimised for mobile devices to be more effective in both organic and non-organic traffic, thus improving your exposure online and business bottom line.
Google Analytics included:
Google Analytics is included for every website to provide a comprehensive set of statistics, best practices and techniques for full customer reporting across ads and videos, websites and social tools, tablets and smartphones.
Content Management System (CMS) included:
Our in-built CMS allows you to update your content on your website effortlessly. You do not require excessive programming or HTML knowledge, although if you do need help, we are always there to provide support and assistance as required.
Ultra Fast Cloud Hosting:
We also utilize ultra-fast and secure "cloud" hosting with Content Deliver Network (CDN) for maximum speed, a crucial factor for the website's overall search engine rankings, user experience and conversions.
Hosting and Support when you need it!
Absolutely! Just ask for our attractive hosting packages. We offer hosting and maintenance packages, so that your website stability and maintenance is never an issue to worry about.
How do we design and build your Website?
You provide us with a simple outline of the requirements for your new responsive website. Conversion or New Build.
We provide you with a list of hundreds of pre-built responsive themes that we think are suitable for your requirements, but ultimately the choice is yours.
You supply us all the content, copy, logo and images for your site. You have most of this content already!
We set you up your chosen theme on our staging server so you can track and view the progress via a private URL.
We build the menus, pages, plug-ins and configure the theme to your requirements.
We will crop and optimize your text and format your images.
We publish your content, with an allowance for two rounds of content changes before we make your site live.
You make a final review and approval of the site.
We move your site to our live server and your site is now live on your domain and is fully SEO ready.
You are ready to go!
Our latest Responsive Websites