The CEO of outdoor company Ooh Media has challenged marketers and their agencies to think about outdoor advertising for more than just public relations stunts.
Speaking at a media launch for Ooh Media's new interactive retail panels, Brendon Cook argued too many marketers/agencies saw out of home digital panels as an opportunity to try and "go viral", without realising the potential to reach a mass audience on the panels themselves.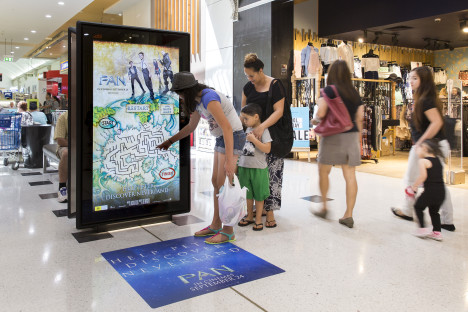 Citing the success of the Pepsi unbelievable bus shelters campaign in the UK Cook said: "When you look at the great things being done around the world, including in Australia, often they are just stunts.
"(Pepsi bus shelters) was done on just one bus shelter. Pepsi didn't even buy a campaign on bus shelters and that never made sense when all this technology is enabling us to think differently."
Cook was promoting Ooh's 50 new Excite interactive panels that are being rolled out at shopping centres across the country and which combine multi-touch screens, gesture control, voice recognition, web-cams, Wi-Fi, and audio into the one digital retail panel.
"(One off campaigns) are quite expensive programs to put together around one creative idea and then, if you are the client, you are hoping to god it will go viral," he said.
"We have been talking to marketers about where there would be interactive capabilities. There are opportunities for consumers to engage with brands and what would you create to give them the most opportunity to change the way they could create quickly and on scale."
Challenged on whether 50 new interactive digital retail panels were enough to deliver brands the scale and reach they wanted Cook noted that there eventual plan was to get to 300 interactive panels.
"300 is real scale when you look at it in terms of audience reach when mixed with other things," said Cook who noted that many clients were buying the panels as part of a broader offering.
"The product is the driver of an integrated campaign," he said. "A client will buy for example 450 (static) signs, they are buying digital and they are buying the Excite panels. They are buying a full engagement to deliver mass reach."
Asked whether creative agencies need to do more in terms of creating campaigns tailored to these interactive digital panels Cook said: "The creative industry also has to be able to showcase what this technology can do.
"We have taken on the mantle to do that and the campaigns that are all coming up have been the marketer, creative agency and media agency all collaborating."
On the question of whether Ooh was getting the right premium from marketers and their media agencies for these new digital panels Cook deflected the question, but noted that the challenge was to sell the potential of the more immersive experience.
"Our job is to show them the potential but then it's their job to take that and turn it into gold," said Cook.
"We are starting to see some really strong engagement but part of the challenge has been that the scale wasn't there for them to do it. "
Cook said they would start 50 excite panels before scaling up.
"We will know how far we are going to roll this out by the middle of next year. We can move pretty quickly."
Read the original post at Mumbrella.com.au