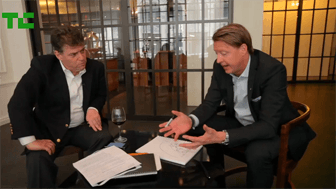 With its illustrious 138-year history, its 114,000 global workforce and its $38 billion dollar market cap, you'd think that the Swedish tech giant Ericsson would be secure as the world's leading provider of technology and services to telecom operators. But no. As Ericsson CEO Hans Vestberg confesses, every morning while brushing his teeth, he thinks to himself: "Today I need to make more changes in order to be relevant."
But, of course, "relevancy" is a tricky word amid the creative destruction of today's tech world. And nobody knows this better than Vestberg – whose four and a half year tenure at Ericsson has been so impressive that he was rumored to have been on Microsoft's radar as a potential CEO. In what Ericsson describes as Network Society, everything changes. And so, as Vestberg acknowledges, Ericsson needs to change, too. Thus Ericsson is reinventing itself not only as a mobile infrastructure and services provider, but also as a company prospering in the new intersection of telecom, IT and media.
Vestberg admits his own paranoia about perpetually reinventing Ericsson: "We need to challenge ourselves." Only the paranoid survive, of course. And as Ericsson begins to move downstream and directly compete with tech companies like IBM and HP, the next few years are going to be bloody interesting in that trillion-dollar intersection of telecom, IT and media.
Read the original post at Techcrunch.com